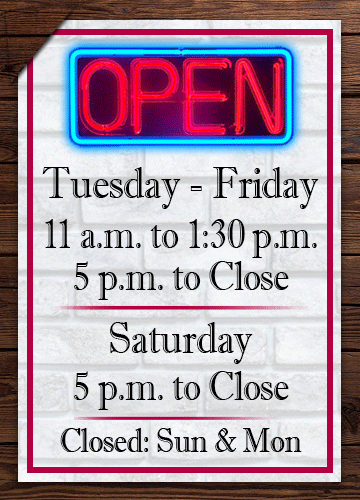 Bosco's Started in 1974 serving the people of Casper with delicious Italian Dishes, American Dishes, Take outs, Catering, Shrimp Scampi, Scallops, Seafood Ravioli and Baked Lasagna.
We also offer Free internet.
We appreciate your business.
Unbelievable Food!
What a delightful experience and unbelievable food! Lindsay took such great care of us – we're definitely going to become regulars now!
Best Italian in Casper!
Boscos has been a main stay for Italian food in Casper for a long time. Always good home style food. Not fancy and families are welcome. Fairly small so may want to check ahead or wait for a table. Won't be dissapointed!
This place is awesome!
The food was fantastic and the price was beyond reasonable! Feels like going to my grandparent's home.
Exceeded my expectations!
Wow…… WOW. I ordered Bosco's through UberEats. At first I thought there was a typo for the steak meal, because no way was there a 16 oz steak, soup, salad, alfredo, and garlic bread for $22. But sure enough… I received ALL OF THE ABOVE. And not only was this huge meal at an amazing price, but it was DELICIOUS. Wow. Exceeded all of my expectations. I really didn't think anything could compete with Olive Garden bread sticks… And I love me some garlic bread, I've had enough to know my stuff. So, my expectations were high. But I'll be damned. This is my absolute favorite garlic bread. Ever. By the way, this was a whole freaking loaf of bread. Huge. And so yummy. Bye bye olive garden… Forever. Yes. That's how good this place is. I can't even recommend this place enough. I can't wait to order again and explore new menu items!!! Thanks, Bosco's for an absolutely amazing meal.
Must eat here!
If ur traveling thru Casper and looking for Italian, Bosco's will not disappoint. The service was outstanding and the food was the best Italian I have ever had. Look no further. You'll love it! We need to keep places like this around as they are true gems.
Double those 5 stars!
Wow. This was a gem to find. Very small eatery with a nice vibe. We got a reservation and were glad we did. They have around 20 or so tables. The decor is red checked tablecloths and nice wood furnishings. Very inviting.
We were promptly seated and our server gave us a rundown on the menu items. Lots of great looking pasta dishes with very tasty sounding sauces. We could see from other tables that this was serious Italian cuisine and the portions were good. They also do a bustling takeout business we could see from the boxes of food going out the door.
So, in the middle of the Rocky Mountain West, we ordered Shrimp Scampi and the Scallop Dinner. The meals were served on a bed of just-right al dente pasta with each sauce being deliciously paired with the seafood. The minestrone soup was rich and delicious and the salad course was ample and fresh with a balsamic dressing that worked perfectly. A bottle of Italian Pinot Grigio was just minerally enough but still soft and delicious with our seafood.
This was my birthday and the waitress brought us a nice little sundae with ice cream, chocolate, pizzelle, and a candle to top off the evening.
What a great place. This is a family restaurant and the woman in the kitchen has been cooking and running the place for 47 years. We have seafood from coast to coast and in some pretty well known restaurants. We've never had better scampi or, especially, scallops in our travels.
ADDRESS
847 E A St., Casper, WY 82601